Evolve Tomato Veg 900g
Evolve Tomato Veg 900g

Prices excluding sales tax
Short description
EVOLVE Organic Tomato and Vegetable 7-3-4 with 10% Calcium
Stock
Sorry, this product is out of stock
Greenhouse Experts since 1991
Organic Plants and Fertilizers
Open 7 days a week
Huge Range of Indoor and Outdoor Plants
Amazing Gift Department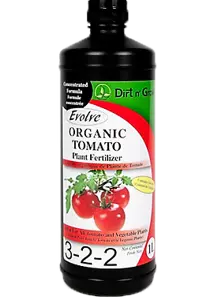 Evolve Tomato Veg 900g
Prices excluding sales tax
One of our top sellers! EVOLVE Slow Release Tomato and Vegetable granular fertilizer will last up to 2 months after application and will help prevent blossom end rot.
​
Just add EVOLVE Slow Release Tomato & Vegetable and forget about it! It's easy to grow organic!

Coverage: New Soil - mix 1 cup with every 2 - 5 gallons of new soil for container gardening
Existing potted containers - sprinkle 1 cup over surface of soil per 2 - 5 gallons of soil, cover with a thin layer of soil.
Gardens - place 1/4 cup at the base of each new plant, or
- spread 10kg over 100sqft of soil surface then mix into the soil, or
- place 10kg directly into 2500 linear feet of seed row. Place seed on top of fertilizer and cover with soil
Write a review about "Evolve Tomato Veg 900g"
We want to know your opinion! Write a review about the product "Evolve Tomato Veg 900g"!
Do you want to visit us?
Garden Retreat
6510 1a StreetSW
Calgary, AB T2H 0G6
T. +1 403-255-7097