Promix HP 107L 3.8 Cube
Promix HP 107L 3.8 Cube
Prices excluding sales tax
Short description
Promix HP 107L
Stock
Sorry, this product is out of stock
Greenhouse Experts since 1991
Organic Plants and Fertilizers
Open 7 days a week
Huge Range of Indoor and Outdoor Plants
Amazing Gift Department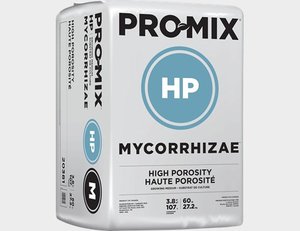 Promix HP 107L 3.8 Cube
Prices excluding sales tax
Pros and cons
Dries out more frequently than general purpose, peat‑based mixes
Well suited for low-light growing conditions and high humidity
More difficult to overwater crops
Reduces incidence of water related problems (root diseases, algae and fungus gnats)
Holds less water for improved leaching of fertilizer salts during crop cycle
With its high perlite content, PRO-MIX HP provides a great growing environment to growers looking for a significant drainage capacity, increased air porosity and lower water retention. The added benefit of fibrous peat moss and coarse perlite makes this formulation ideal for growers who require a superior-quality product adapted to their needs for watering flexibility and crop seasonality.
Annuals
Foliage plants
Potted flowering plants
Greenhouse vegetables
Young plant propagation
Vegetable transplants
Hydroponic
Medicinal Plants
Write a review about "Promix HP 107L 3.8 Cube"
We want to know your opinion! Write a review about the product "Promix HP 107L 3.8 Cube"!
Do you want to visit us?
Garden Retreat
6510 1a StreetSW
Calgary, AB T2H 0G6
T. +1 403-255-7097